If you need to hide certain data on your Mac from prying eyes while keeping other data easily accessible, MacPaw's Hider 2 for Mac OS X (10.8 and higher) makes this easy. Version 2 added a system wide menu and an interface tweaked for Mac OS X Mavericks.
MacPaw describes Hider 2 as the "Fort Knox of digital storage." That may be a bit of hype, but the utility does let you let you hide and encrypt files and folders on a file-by-file basis, which is extremely handy.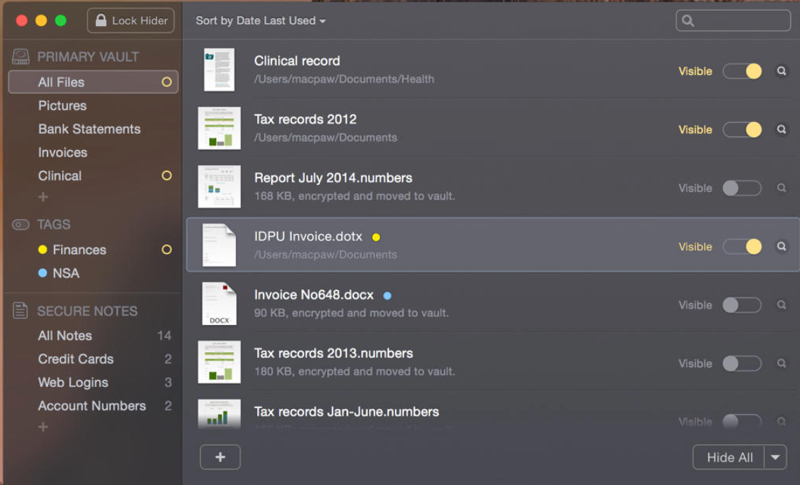 Hider 2 keeps the data you want to hide locked up. Only those with your password can access the app and, therefore, your data.What's more, it encrypts your files with AES-256 encryption upon hiding.
Hider 2 works with both your Mac's internal drive and external store devices. Hidden files can't even be spotted by the Finder or Spotlight. If you have multiple drives, you can choose which one Hider 2 uses for its "vault."
What's that? When you first launch the software, it asks you to enter a password for the "vault" that stores your data. Once you create your vault, you'll see its window. Drag and drop files or folders into the window, and they're automatically encrypted and hidden. There's a toggle switch next to each item if/when you want to make them accessible to everyone again.
Hider 2 doesn't just make your files invisible, but actually copies them to its your vault and deletes them as if you'd performed an "Empty Trash" action. When you toggle an item's switch to Visible, the MacPaw app copies the item back to its original location. That's an innovative idea, but it does mean that hiding-encrypting/unhiding-uncrypting large files can take some time. It would be great if there was an option to have Hider 2 perform a "Secure Empty Trash" action for added security.
You should also note that you have to remove an item from your vault to look at it or make changes to it. Again, this can be a bit time consuming. Finally, I wish you could create multiple vaults — say, one for business use and one for personal data. However, that's not an option.
Though there's room for improvement, MacHider is simple to use and provides a secure option for hiding your files.