Here's some good news and some bad news. First the bad: the sub-par performance of the apps and social platforms industry continued in 2018; the industry again ranked 12th out of the 15 studied in MBLM's Brand Intimacy 2018 Report, which is the largest study of brands based on emotions. The good news: Apple Music led the way followed by Facebook and Spotify.
The remaining brands in the Top 10 app & social platforms industry are Pinterest, Pandora, Snapchat, Google Maps, Twitter, Uber and Instagram. Brand Intimacy is defined as a new paradigm that leverages and strengthens the emotional bonds between a person and a brand.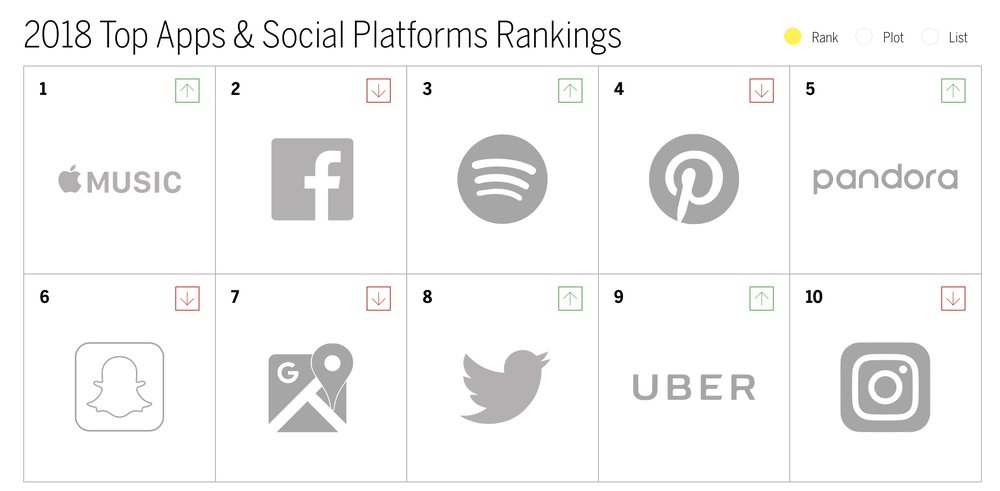 For the third year, the study revealed that top intimate brands in the U.S. surpassed the top brands in the Fortune 500 and S&P indices in revenue and profit over the past 10 years. Other significant apps & social platforms findings in MBLM's Brand Intimacy 2018 Report include:
The app & social platform industry had a Brand Intimacy Quotient of 18.0, well below the industry average of 27.1.
Ritual, which relates to a brand being ingrained into daily actions, was the industry's most prominent archetype and Apple Music was the top brand for ritual in this category.
Apple Music climbed up five spots, ranking #6 last year and #1 in the industry in 2018.
Apple Music also ranked #1 for millennials and men, while women preferred Facebook.
Facebook also ranked #1 with those 35 to 44 years old.
Those ages 18 to 24 preferred Spotify, as do people with incomes between $35,000 and $50,000.
Google Maps, Pinterest and Instagram all had lower Brand Intimacy Quotients than they did last year.
This year's report contains rankings of brands based on emotion, analyzing the responses of 6,000 consumers and 54,000 brand evaluations across 15 industries in the U.S., Mexico and UAE. MBLM's reports and interactive Brand Ranking Tool showcase the performance of almost 400 brands.
During 2017, MBLM conducted an online quantitative survey among 6,000 consumers in the United States (3,000), Mexico (2,000), and the United Arab Emirates (1,000). Participants were respondents who were screened for age (i.e. 18 to 64 years of age) and annual household income ($35,000 or more) in the U.S. and socioeconomic levels in Mexico and the UAE.
---
Like this article? Consider supporting Apple World Today with a $5 monthly Team AWT membership.