The original, vintage Apple-1 operation manual issued by Apple Computer circa 1976, 12 pages, could fetch $10,000 at an upcoming auction, according to the folks at RRAuction (which, you should note, is the company doing the auctioning).
It features Apple's original logo on the front cover, designed by third Apple co-founder Ron Wayne and shows Isaac Newton seated beneath a tree, with a shining apple dangling overhead.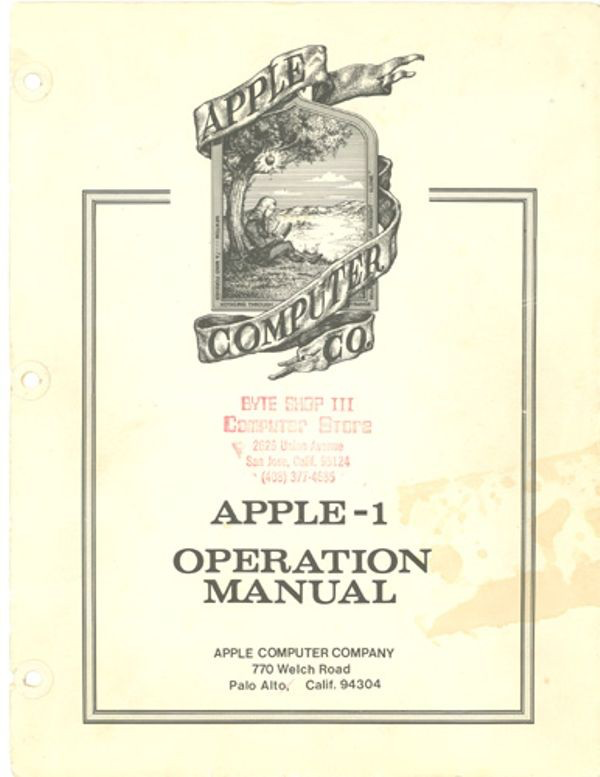 The operation manual features information on getting the system up and running, using the system monitor, and expanding the Apple system, and features a fold-out schematic of the Apple-1 computer. It also has a page headed "6502 Hex Monitor Listing," for a memory program devised by Steve Wozniak that's commonly called the "Woz Monitor."
The Apple-1 was originally conceived by Steve Jobs and Wozniak as a bare circuit board to be sold as a kit and completed by electronics hobbyists, their initial market being Palo Alto's Homebrew Computer Club. Seeking a larger audience, Jobs approached Paul Terrell, owner of The Byte Shop in Mountain View, California, one of the first personal computer stores in the world.
Aiming to elevate the computer beyond the realm of the hobbyist, Terrell agreed to purchase 50 Apple-1 computers, but only if they came fully assembled. The Apple-1 thus became one of the first "personal" computers that didn't require soldering by the end user. All together, over a span of about 10 months, Jobs and Wozniak produced about 200 Apple-1 computers and sold 175 of them.
"Very few of the original Apple-1 operating manuals—perhaps 65 or so—are known to exist today," says Bobby Livingston, executive vice president at RR Auction. "Making the manual a highly collectible piece from one of the most valuable and successful companies in the world."
A fully functional Apple-1 Computer sold for $375,000, by the auction house in September, 2018. Also featured in the operating manual sale are two glossy photos signed by Wozniak: one showing the Apple-1 computer, and one of Wozniak and Jobs together.
The Fine Autographs and Artifacts auction from RR Auction will conclude on July 10, at 7: p.m. (Eastern) More details can be found online at www.rrauction.com.