Apple's AirPods don't go on sale until late October, but 12% of U.S. consumers surveyed by Bank of America Merrill Lynch say they intend to purchase 'em, reports Business Insider.
Some of the reasons why some consumers might not decide to opt for the wireless earbuds are that their current headphones are good enough (56% of respondents) and that they're too expensive (40% of respondents.)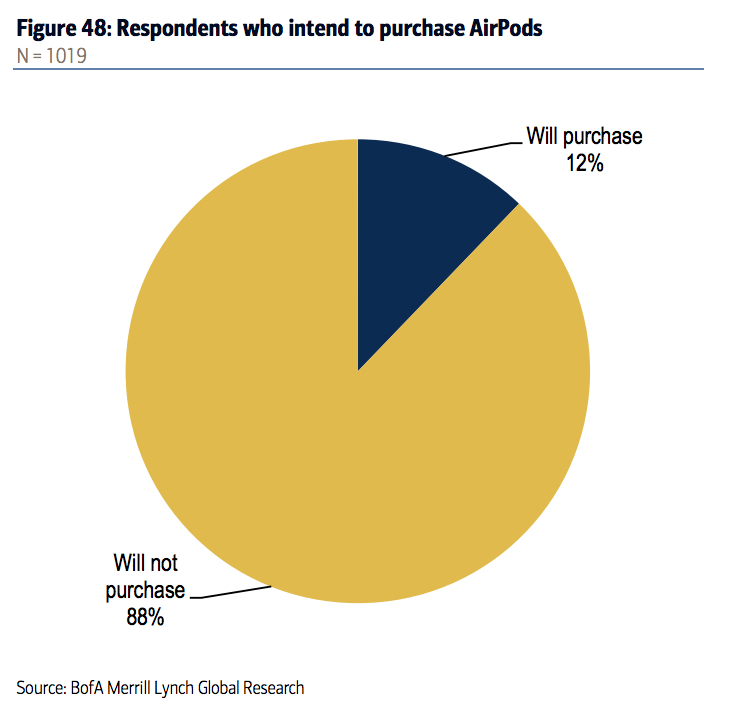 The wireless headphones use advanced technology and interact with Siri. They eliminate the hassles of wireless headphones, by just flipping open the lid of its charging case and, with one tap, they are instantly set up and ready to work with your iPhone and Apple Watch, according to Philip Schiller, Apple's senior vice president of Worldwide Marketing. Advanced sensors know when you are listening and automatically play and pause your music.
Using Siri, AirPods allow you to access Siri with a double tap. This is enabled by the new Apple W1 chip, which enables AirPods to deliver high-quality audio and industry-leading battery life in a completely wireless design, says Schiller.
To use, just open the charging case near your iPhone and with a simple tap, AirPods are immediately set up with all the devices signed into your iCloud account, including your iPad and Mac. They're connected and ready to go when you are; just put them in your ears when you want to listen. AirPods can "intelligently and seamlessly" switch from a call on your iPhone to listening to music on your Apple Watch.
The wireless AirPods including charging case will be available from Apple.com and Apple Stores. They require Apple devices running iOS 10, watchOS 3 or macOS Sierra.